Details
KTAG V2.10 ECU Programming Tool Master Version No Checksum Error
Why to choose KTAG:
1. Software Version: V2.10 (Avaiable for All V1.89, V2.06 and V2.10) Hardware Version: 5.001
2. Available Protocols for K-TAG: BDM MOTOROLA MPC5xx
3. Support BDM Function Well
4. Multi-Language: English, Italian, German, French, Portuguese, Spanish
5. No Checksum Error
6. Support both Car, Motorcyle and Truck ECU Programming

Notice:
1. Please don't try to update the KTAG, or it will damage the tool
2. Can Only Use Ktag Software from us
3. It has Total 500 Tokens, after you use it up, you can follow this Video and reflash the tokens again
4. reflash CPU or solve the tokens limitation problem software free download Click here
5.The computer which you have installed KESS or KTAG software on cannot connect with internet anytime and anywhere
KTAG Connection Picture Display: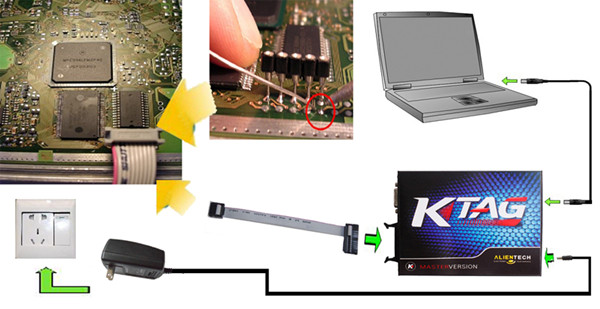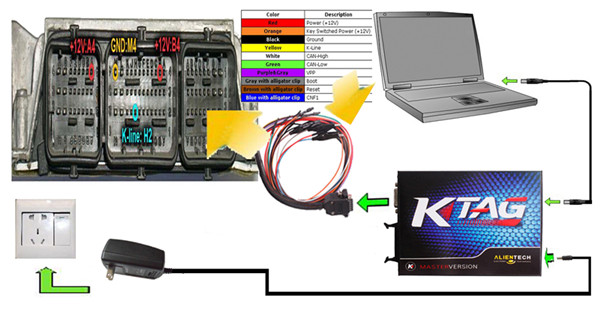 KTAG Description:
The new K-TAG is 100% J-Tag compatible, but in a completely different way. Usually J-Tag programmers are available only for big productions, never present in chiptuning devices. Using only the essential components, Alientech have merged J-Tag, Motorola BDM/Nexus and Bootloader Mitsubishi/Infineon Tricore/ST communication lines into a single product.
K-TAG works in perfect harmony. Learn how to use K-TAG takes almost no time, because all the communication protocols operate along similar principles. Once you have learned to use a protocol, you will naturally use all the others. Alientech knows what it means to work in motion. For this reason the research methods of the protocols and choice of vehicles are detailed and ordered.
Unlike many ECU programming tools, with K-TAG you have at your disposal only the applications you really need. Once you have the hardware, you can choose which group of protocols to enable and then start working. In this page you can find a complete list of the ECU currently supported by K-TAG.
Cables From Left to Right: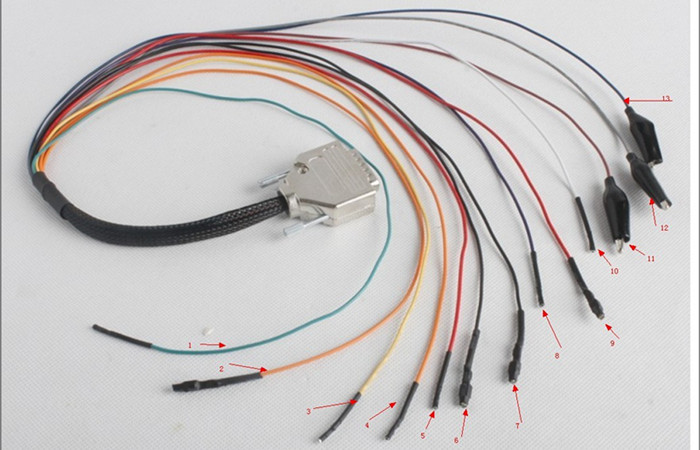 1.GREEN-CAN L
2.ORANGE-VKEY
3.YELLOW-K LINE
4.ORANGE-VKEY
5. RED-VECU
6.BLACK-GND
7.BLACK-GND
8.PURPLE-VPP
9.RED-VECU
10.WHITE-CAN H
TYPE BRAND ECU ECU_TYPE K-TAG
Car FORD BOSCH EDC 16C34-2.20 1060
Car FIAT BOSCH EDC 16C39 1070
Car SEAT BOSCH EDC16 1002
Car SKODA BOSCH EDC16 1002
Car VOLKSWAGEN BOSCH EDC16 1002
Car Mercedes BOSCH EDC16 C2 1004
Car BMW BOSCH EDC16 C31 1003
Car Mercedes BOSCH EDC16 C31 1004
Truck Mitsubishi Fuso BOSCH EDC16 C31 1043
J-TAG RENESAS SH705x
TYPE BRAND ECU ECU_TYPE K-TAG
Car CITROEN DELPHI DCM3.4 257
Car PEUGEOT DELPHI DCM3.4 257
Car DACIA DELPHI DCM3.4 258
Car NISSAN DELPHI DCM3.4 258
Car RENAULT DELPHI DCM3.4 258
Car PEUGEOT DELPHI DCM3.4 362
Car SUZUKI DENSO 057L1 370
Car SUZUKI DENSO 062J0 262
Car OPEL GM DENSO 1.7 253
Car SUZUKI DENSO 79J2 316
Car SUBARU DENSO CJ 281
Car NISSAN DENSO D3 264
Car RENAULT DENSO D3 264
Car Subaru DENSO DM 375
BOOTLOADER INFINEON TRICORE
TYPE BRAND ECU ECU_TYPE K-TAG
Car BMW BOSCH EDC17 C06 1156
Car OPEL GM BOSCH EDC17 C19 1153
Car BMW BOSCH EDC17 C41 DDE8 1220
Car MINI BOSCH EDC17 C41 DDE8 1220
Car Mercedes BOSCH EDC17 C43 1231
Car Mercedes BOSCH EDC17 CP01 1157
Car BMW BOSCH EDC17 CP02 1156
Car SEAT BOSCH EDC17 CP04/CP14 1126
Car SKODA BOSCH EDC17 CP04/CP14 1126
Car VOLKSWAGEN BOSCH EDC17 CP04/CP14 1126
Car BMW BOSCH EDC17 CP09 1156
Truck Mitsubishi Fuso BOSCH EDC17 CP15 1170
BOOTLOADER ST10
TYPE BRAND ECU ECU_TYPE K-TAG
Car PEUGEOT BOSCH EDC15C2 397
Car PEUGEOT BOSCH EDC15C6/C7 397
Car PEUGEOT BOSCH EDC16+ 397
Car PEUGEOT BOSCH EDC16+ C34 397
Car PEUGEOT BOSCH EDC16+ C34/C39 397
Car PEUGEOT BOSCH EDC16+ CP39 397
Car PEUGEOT BOSCH EDC16C0/C3 397
Car PEUGEOT BOSCH EDC16C34/5.90 397
Car Kia BOSCH M7.9.8 167
Just as the full range of Alientech programmers, K-TAG is available both in Master and Slave version. This way, Slave user can rely on the larger network of Master in the chiptuning field.The only thing that K-TAG does not do: OBD Communication. But for that you can count on KESSv2.
To use K-Tag at best on any kind of Electronic Control Unit, Alientech offers you a wide range of special adapters, to be soldered on the ECU or to be used on the positioning frame.
Following Details of the Accessories Available in Car List Catalog Per Group of Protocols of Communication
BDM Motorola MPC5XX
14AS00T01S: Adapter to be soldered to the ECU
14AS00T02S: Cable with connector to be soldered to the ECU
14AS00T03S: Adapter to be soldered to the ECU
14AS00T04S: Adapter to be soldered to the ECU
14AM00T00M: Board for connection through positioning frame
14AM00T01M: Board for connection through positioning frame
14AM00T02M: Board for connection through positioning frame
14AM00TBAS + 14AM00TB01: Board for connection through positioning frame, with pull-out tip 14AM00TB01
14AM00TBAS + 14AM00TB02: Board for connection through positioning frame, with pull-out tip 14AM00TB02
14AM00TBAS + 14AM00TB03: Board for connection through positioning frame, with pull-out tip 14AM00TB03
J-TAG Nexus MPC5xx
14AS00T05S: Adapter to be soldered to the ECU
14AM00T05M: Board for connection through positioning frame
14AM00T06M: Board for connection through positioning frame
J-TAG RENESAS SH705xx
14AM00T07M: Write Board for connection through positioning frame
14AM00T08M: Write Board for connection through positioning frame
14AM00T09M: Write Board for connection through positioning frame
14AM00T10M: Read Board for connection through positioning frame
14AM00T11M: Read Board for connection through positioning frame
BOOTLOADER INFINEON TRICORE
14P600KT04: Board for connection through positioning frame
BOOTLOADER ST10
14AM00T03M: Board for connection through positioning frame