Details
VPECKER Easydiag Wireless Diagnostic Tool V8.2 Support Wifi WINDOWS 10
Why To Choose VPECKER Easydiag:

1. Languages avaliable: Supporting 25 languages, including Italian, Chinese (Simplified), English, Chinese (Traditional), Japanese, German, Russian, French, Spanish, Portuguese, Polish,Turkish, Dutch, Hungarian, Korean, Czech, Arabic, Indonesian, Persian, Thai, Vietnamese, Finnish, Swedish, Romanian, Bosnian, etc.
2. Complete function capability including live data, ECU programming and so many others.
3. Unparalleled OBDII functionalities-support ALL 5 OBDII protocols and ALL 10 test modes.
4. Automatic Wi-Fi updates available in new software releases. Wi-Fi internet capability allows for wireless access throughout the workshop.
5. Can check out the year and model of the vehicles automatically and quickly.
6. Can work stably in high and low temperature environment, and work well.
7. The genuine Windows XP~10 operating systems allows for more stable performances, better compatibility and expandability
8. Extremely easy-to-use with touch-screen operation and intuitive operation in the windows.
9. Software support online update.
10. Hardware architecture uses a new design with multiple protection, interference and stability. Built-in overvoltage protection module is applied, in order to protect scanner and vehicle against accidental damage during checking.
11.Extensive vehicle coverage for more than 70 US domestic, Europea, Asia, Australia and Chinese vehicles makes.
VPECKER PROTON Software Updated to V13.0
1. Add PERSONA ENGINE Easy-U 1.0
2. Add New SAGA 2008~ 1.3L Engine,Transmission,Airbag.
3. Add New SAGA 2009~ 1.6L Engine,ABS,Transmission,Airbag.
4. Add EXORA 2009~ 1.6L Central electronic.
5. Add EXORA BOLD 2009 1.6L Engine,Transmission,ABS,Airbag,Central electronic and ESP.
6. Add PREVE 2012 1.6L Engine,Transmission,Airbag,Central electronic and ESP.
7. Add SUPRIMA 2013~ 1.6L Engine,ABS,Transmission,Airbag,Central electronic.

Easydia V8.1 Update Content
1. Change the HOME screen and the backgroup.
2. Add four functions: Maintenance service, Feedback, Data management, User management.
3. Improve the BLUETOOTH connection.
Easydiag V6.9 Update Content

1.Improved the communication link layer
2.Improved the supporting for Bluetooth connection
3.Fix some display bugs
Vpecker Client V6.4 Updated Information
1. (Update from "Setting -> Update" )
1). Support the BlueTooth connection. (Need Bluetooth Version VPecker Easydiag, will release soon)
2). Optimize the WIFI connection and license checking.
3). Optimize the production activation.
4). Fix some display bugs
2. SUBARU PRO V18.0 in ESS (Update from "Online store")
Covered up to 2015 models: Legacy, Outback, Forester, SUBARU XV, WRX STI, Tribeca, etc.
3. MITSUBISHI PRO V18.0 in ESS (Update from "Online store")
Covered up to 2015 models: 380, 73 TRUCK, ADVENTURE, CHALLENGER, CHARIOT, CLIPPER, COLT, DELICA, DION, ECLIPSE, EK-WAGON, ENDEVOR, EXPRESS, GALANT, GRANDIS, L200, L300, LANCER, MAVEN, MINICA, MINICAB, MONTERO, OTTI, OUTLANDER, PAJERO, TOWNBOX, TRITON, ZINGER/FUZION, i.
4. OIL RESET V18.0 in ESS (Update from "Online store")
Covered up to 2014 models: Citroen, Peugeot, Mini, Lincoln, Pontiac, Rover, Saturn, Vauxhall, Cadillac, Chevrolet, Chrysler, Dacia, Daewoo, Ferrari, Opel, Buick, Maserati, Saab, OLDSMOBILE, Renault, Volvo, Besturn, Acura, BYD, Holden, Dodge, Ford, Honda, Infiniti, Isuzu, Jeep, Lexus, Nissan, Romeo, Scion, Subaru, Toyota, Suzuki, etc.
Function Successfully tested From Client
1)What it can do more with special functions its for Toyota, Honda, Scion. But since it is original interface and software price is ok for it
2)So for now vpecker is good becuause it is even more faster then launch and original for good price, but not even close to delphi or launch because of the functions that it cannot do.
3)Tested today on Kia Cerato petrol,and finally some result, it haves options like launch idiag only one function is not there and that is brake fluid bleeding,all the rest functions are the same.
So far all cars that i have tested this one is the first one that haves some extra functions...
4)I have tried today on VW Golf MK IV 1.9 tdi, haves a lot of functions, this time even more then launch idiag,it haves even guided function, and a lot special functions, and login, that is the first that vpecker works even better...
5)I have tested today on ASTRA J 2011 1.7 cdti wroks ok,haves special functions not a lot but ok. But it works until 2011,..
6)BMW 530d E60 engine connect , but only read/erase fault code and live data, service reset
(Tested) Vpecker can do injector cooding for a part of Toyota models.
Easydiag Diagnostic Tool Newly Added Reset Function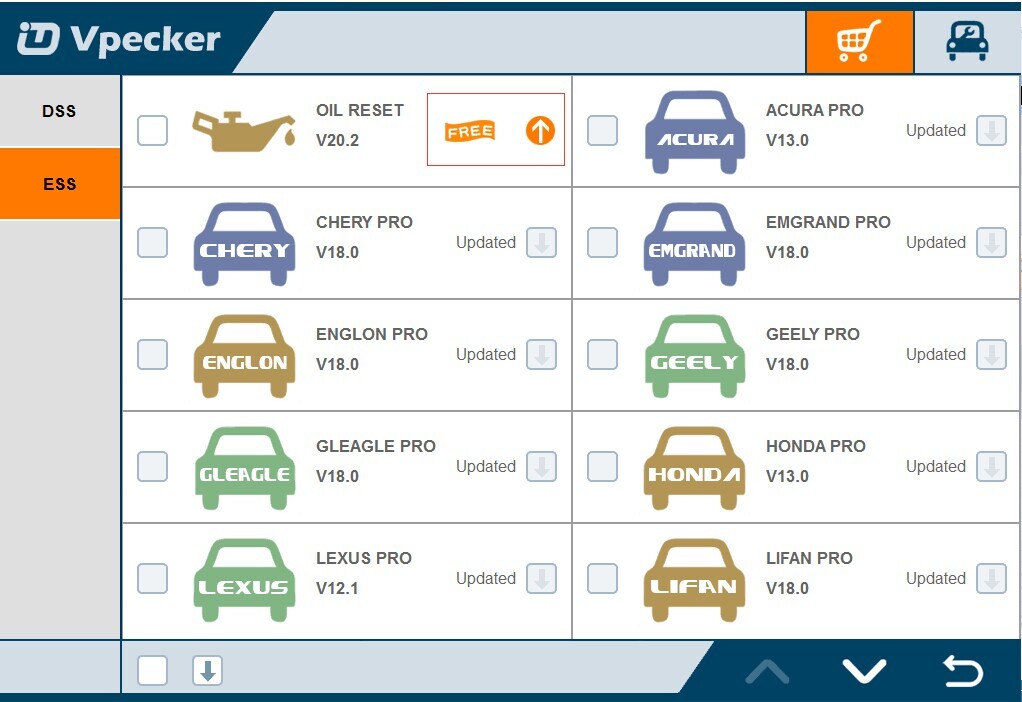 VPECKER Easydiag Wireless OBDII Full Version Diagnostic Tool Profile: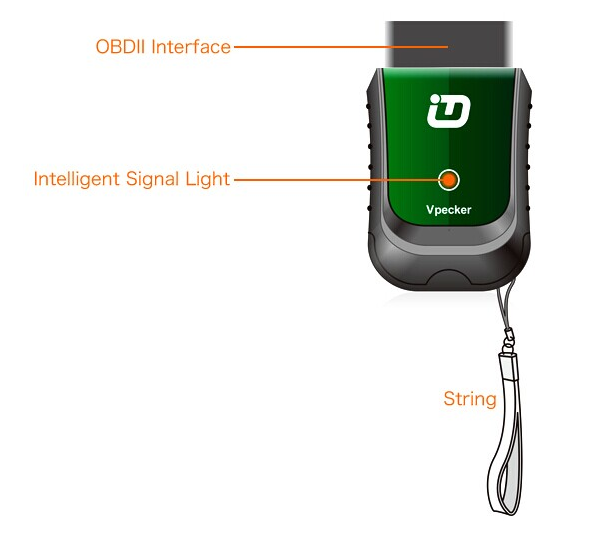 Package including:

1pc x VPECKER EASYDIAG
Weight: 170g
Package: 15cm*9cm*4cm ( Inch:5.91*3.54*1.57 )
Contact information:
Whatsapp: 0086-15171473606
Email: motor@motorpartstore
Skype: motor@motorpartstore
or sales7@eforshop.com