Q: Hello, I installed this V54 FGTech Galletto 4 software on my new laptop last week and tested my car successfully. But yesterday when I installed the software on my old laptop again, it gave me this prompt: ESEGUIRE RENEWAL CON FGTech_DOWNLOAD_UPDATE PER RIATTIVARE IL TOOL— MAKE RENEWAL WITH FGTech_DOWNLOAD_UPDATE FOR TOOL RE-ESTABLISHMENT. What should I do?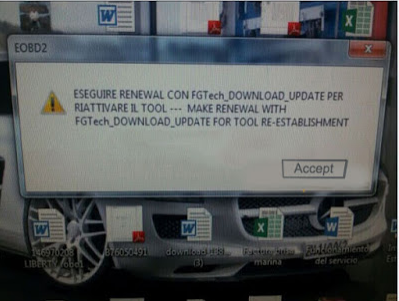 A: 1) First disconnect the internet and click accept. If you can see the next interface, then software do not have problem
2) If you cannot see next interface, then it means your system does not fit, please change to use our system to install this software.
3) This software can be installed on most XP and Win7 system. For some laptop, if your PC has other software which is not compatible with this software, then it does not fit.